Folding Picnic Table Metal
Folding Picnic Table Metal
This Folding Picnic Table Metal (fold-down, aluminium Picnic Table) is an incredible piece. It's super portable, seats up to 4 with ease, each seat supports up to 100kg, the table takes 30kg and it's more portable than a hamster with a handle. If you're out and about a lot with the family or friends, this is an ideal item for the boot, back garden or wherever you want to tuck it away.
Specifications:
Table: 86cm (L) x 67cm (W) 66cm (T)
Seats: 27cm (L) x 27cm (W) x 40cm (T)
Suitcase folded up: 33cm x 87cm
8.5kg Net Weight
9.2kg Gross Weight
The Stools support 100kg each and the table supports 30kg.
Assembly: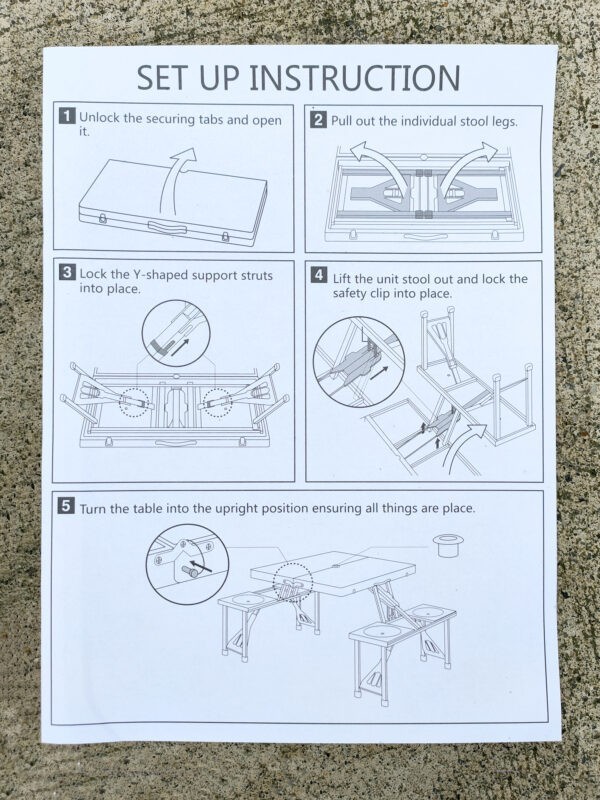 The Picnic Table is easy to set up. It can be done alone, but two people will make it considerably quicker. To set it up:
Unlock the tabs keeping the table together
Pull out the grey legs from the body (just the legs, if the other parts move, ignore them for a moment)
Lock the legs into position with the grey 'Y-shaped' support strut. This will prevent the seats from moving.
Now lift the stool out and clip the safety lock down and into place. It isn't too obvious to see, but it's there.
Now put the hanging table locks into place and put the circular tube into the middle of the table.
Shipping & Delivery
We offer shipping to all of Ireland.
Why Ideal Storage?
We have a 5 star Google review rating and make sure we deliver top quality service to all of our customers.
More Info
Want to see more options like this? Then click here.
We have many other garden benches in different materials, sizes and designs. We also have many other types of products for you to choose from including wheelie bin storage, bike storage and sheds also. Click here to see full range.