This Rocket Industrial Heater is as powerful as we have available in the Ideal Storage space heater range. It designed for large, well-ventilated areas that required fast heating, e.g. workshops, warehouses etc. It heats up fast, blows out heat and will get you warm in no time. It runs on almost any suitable heating fuel (more details below) and it's fully portable.
Fuel Usage
This heater will run on Diesel, Agricultural Diesel Kerosene or Tozane, however you cannot mix these fuels in the tank. It is the customer's responsibility to use the most suitable fuel for their needs / safety requirements. No other heater sold by Ideal Storage can use Diesel or Kerosene.
Remember, you must use clean fuel from a clean tank.
Transportable
This industrial heater comes with an easy-carry handle at the back and two puncture-proof wheels at the front, to allow for easy transport. It should go without saying, but for safety reasons, the heater should not be moved while in use or shortly after use.
Suitable Locations
This heaters is not suitable for home usage. It is designed to be used in large, airy, well-ventilated locations such as, but not exclusive to:
Warehouses
Large workshops
Barns
Garage
Large Shed
Storerooms and more
Warning
This is a large, powerful heater designed to heat up large, ventilated areas quickly. It should not be used in confined areas with little or no ventilation. As per the manufacturer's instructions:
This appliance should be installed in well-ventilated areas. Please ventilate the area within 5-10 minutes after every 2-3 hours of use of the heater.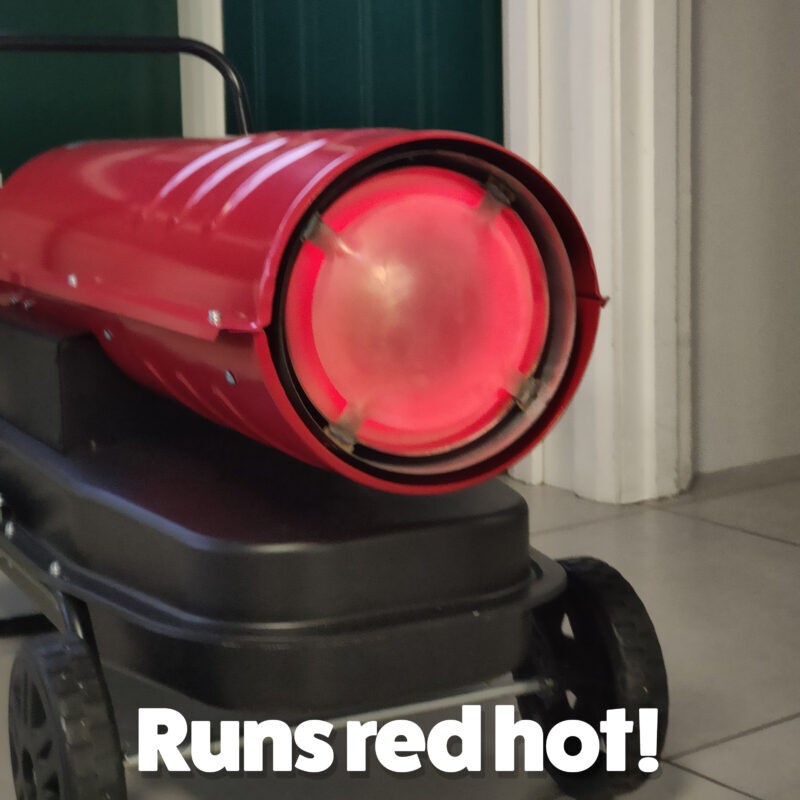 Features
Max Heating Power: 30KW
102,000 BTU
Fuel Consumption: 2.15Kg/h
Air Output: 720m³/h
Fuel Tank: 45L
Fuel Usage: 2.1L/Hr
Power Input: 220-240V 50Hz
Nationwide delivery available on this product
Shipping & Delivery
We offer shipping to all of Ireland.
Why Ideal Storage?
We have a 5 star Google review rating and make sure we deliver top quality service to all of our customers.
More Info
Want to see more options like this? Then click here.
We have many other space heaters in different sizes and designs. We also have many other types of products for you to choose from including wheelie bin storage, bike storage and sheds also. Click here to see full range.